Ashford University Review
est. 1918
Criminal Justice Degrees
Ashford University offers four degree programs that you can complete one course at a time. Homeland Security classes will teach you about the latest counter-terrorism techniques. Law Enforcement Administration courses will touch on ethics and community policing. In contrast, the traditional criminal justice degree coursework will discuss theories.
Ashford University's criminal justice degrees are a part of Ashford's College of Liberal Arts. Programs are led by faculty members who are instructed to provide you with criminal justice knowledge, skills, and critical thinking. Along with support from a highly trained staff, you'll receive access to the 24/7 online support and service that is provided to every enrolled student.
Ashford University offers the following degree programs and majors:
Bachelor of Arts in Homeland Security and Emergency Management
Bachelor of Arts in Law Enforcement Administration
Bachelor of Arts in Social and Criminal Justice
Master of Science in Criminal Justice
Student Success Orientation
The orientation is designed to provide students with a complete overview of the Ashford University experience, prepare them for success in their courses, and help them to self evaluate their readiness to succeed in an online classroom setting. Students will be instructed on Ashford University policies and the learner resources that are available to them through interactive videos and assessments. Students enrolled in orientation must successfully complete all assigned activities.
DISCLOSURES
Federal regulations published in October, 2010 require institutions to report certain information about students who enrolled in Title IV eligible educational programs that lead to gainful employment in a recognized occupation (GE programs). These required disclosures include a program's 1) program costs; 2) on-time completion rates; 3) median loan debt; 4) links to O*NET SOC descriptions; and 5) placement rates. Please find all of the required information contained below. Certain degree programs may not be available in all states.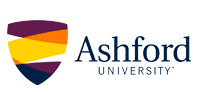 Majors
Bachelor of Arts in Homeland Security and Emergency Management
Bachelor of Arts in Law Enforcement Administration
Bachelor of Arts in Social and Criminal Justice
Master of Science in Criminal Justice